What are gay furry games?
Gay furry games are slightly out there for a lot of gamers, but some of you fine and sexy folk can't get enough them. Basically, gay furry sex games are where you play as a character that is either dressed as a furry or is an animal (more on this later) and explore a world creating mischief and fucking the living daylights out of people, or if you prefer, having people fuck the living daylights out of you.
Now, I understand that gay furry games aren't for everyone, but they are certainly far more appealing than you think. Some gay furry games treat the outfit as exactly that; it is just an outfit that your character is wearing, that you can upgrade, and clean (thank fuck). There are, of course, some furry games that really push the point home that you are a furry and you must find a mate quickly. I know these gay furry games won't appeal to the masses, but I will still play them and give them a sexy old review. So, whatever type of furry game you fancy playing, whether that's an immersive world where your character is truly a furry, or a more relaxed gay game where your character is just in a naughty little furry number, you can find them all on here.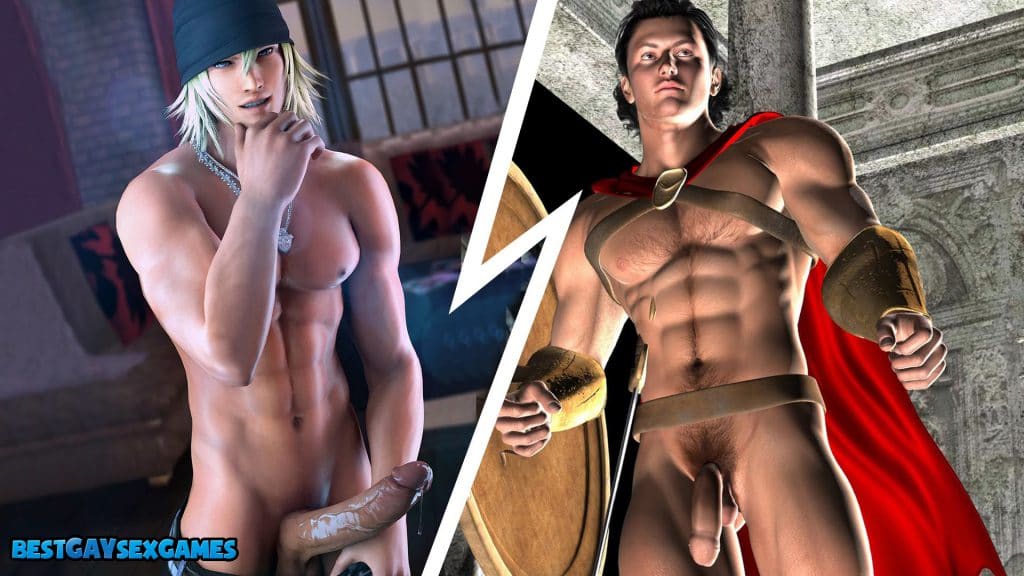 The animals in gay furry games
There are fucking thousands of animals in furry games. You can play as whatever fucking animal your heart desires. In some cases, don't take this sexy decision lightly. Once you select your character's furry costume, you can't change it in some of these gay furry games. In others, you can be an owl for a fucking day and then decide to change shit up and be a tiger. I'll let you know if furries are changeable in the games or not; I don't want you stuck as a snake when you want to be a dog!
In most gay furry games, the good ones a least, the options for which furry you want to be are almost never fucking ending! You have thousands of options, and so you can customise your sexy furry however you wish!
Gay furry games – are you an animal or a person dressed as an animal?
Told ya we'd get back here. As I said, some gay furry porn games are as true to life as possible. In these furry games, you can play as a character that is dressed in a furry costume. You can customise your sexy little character and make it look like you if ya like. You can then select their sexy as fuck costume and get to exploring and fucking your way around a crazy fun world.
There are also other gay furry sex games that are less true to life. You might consider these gay games more fantasy than anything else. In these gay games, your character is an animal; you could be a dog, a horse, a fucking octopus, anything. These gay furry games need a bit more of an imagination to play. You see, all of these animals are wandering around this world looking to fuck everything that moves with their very human-shaped cock. Now, I have no fucking clue whether an octopus has a cock or not, but if it does, it doesn't look like mine.
There are plenty of options for which animal you would like to portray in each type of gay furry game. You've just gotta decide which type of gay game you fancy trying. But how? Where is the best place to find all the info about gay furry games, I am glad you fucking asked!
Where to find the best gay furry games
I am playing all of the latest and fucking greatest gay furry games right now. I have played every gay furry game in the world, and I have reviewed them for you. You can find a shit load of info about all the gay furry games in the world right here. I can't tell you which gay furry sex game you'll love, but I can tell you about the furry games that I loved! If you want to find a gay furry sex game to play, no matter your skill level or how realistic you want the furries to be, you're in the right fucking place, I've played em all, review em all and fucked em all!